There comes a time in almost every man's life when he feels the urge to buy a watch. After all, women can wear jewelry, but the only accessory that a man can wear is his watch.
You might ask yourself, "What is a proper watch?"
To MODASI, the watch must be able to tell accurate time. This is the bottom line and a must have for any watch.
The second purpose of the watch is to always serve itself as an accessory to a man's outfit. 
Lastly, it should represent something to the user. At MODASI, we created our watches to symbolize the journey of a man. It is inspired by the greats and serves as motivation to those with the ambition to take on the world.
Without further ado, MODASI is here to help you through the horology jungle, so you know exactly what you need to know to make your next watch purchase.
1 How Watches Work
The Movement that Makes the Watch Tick
The first step on the road to owning the watch of your dreams is understanding the basics of what makes them literally tick.
That means a quick word on the importance of 'movements'.
Quartz v Automatic
The quartz movement is known for it precision and actually beats automatic movements in this area, which is why it has given the Swiss watch making industry such a hard time. If accurate timekeeping without maintenance is important to you, then quartz is the way to go. MODASI uses a Japanese Miyota quartz movement which offers precision, but also the durability and quality to withstand the test of time.
An automatic movement works by using the movement of the wearer's wrist to wind the mainspring, which in turn powers the watch. Great watch brands like Rolex and Omega produce in-house movements that are rigorously tested. One final thing to bear in mind: if you take off your automatic watch, it'll eventually stop. How long it can run without being on your wrist depends on the individual timepiece, but many tend to work for 38-48 hours before they need rewinding, while some can go on for a full five days.
2 Watch Types
Every occasion demands a different sort of timepiece, these are the top categories according to us.
The Diving Watch
The diving watch is designed to function in the depths of the ocean, the diving watch is characterized by its rugged construction, luminous dials and hands, and unidirectional bezel.
The Dress Watch
The most jewellery-like of timepieces, a dress watch tends to be understated. Usually attached to a leather strap, the ideal dress watch is super-thin so it can rest unnoticed under the wearer's cuff until he needs it. The Businessman collection by MODASI serves perfectly as a dress watch due to its ultra-thin thickness.
The Minimalist Watch
Minimalist watches are an increasingly popular choice. These timepieces tend to be powered by quartz movements, which means you can pick up some MODASI stylish men's watches for less than $200. 
The Car Lover's Watch
We all know that cars and watches are a great match for each other, and for good reason. Those who typically want a nice watch to go with a nice car, will wear a chronograph watch. These watches have a second hand that serves as a timer. You can check out our chronograph watches for less than $200 here.
3 How To Buy A Watch
Choosing Your First Timepiece
This will obviously depend on price, taste and need. If you've only got a couple of hundred dollars, then a minimal quartz watch from modern, design-led brand like MODASI is a fine choice.
It's a fair question: how come that watch is $20,000 while this apparently identical one is $200? Ultimately, it comes down to materials, length of manufacture and brand heritage.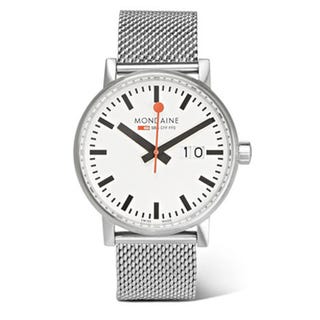 A lot of the brands out there that cost an arm and a leg are priced so highly because of their heritage, marketing, and mark-ups to retailers which they put behind their brand. Higher-end materials like precious metals and sapphire crystal will cost more, but only up to a certain point.
A Simple Guide To Complications
You'll notice that some watches have extra dials and hands: these are called complications. These go from the "chronograph" (the one with stopwatch functionality, used extensively in motor sport models) to the "GMT", which provides a fourth hand that can be set to the alternative time zone of the wearer's choice. Do we need complications in an age when our phones do so much? Not really. But that's not the point is it?
Why Size Matters (A Bit)
Just as there's no typical wrist size, there's no typical size of watch. While some timepieces are so large they can be seen from space, most have a case diameter of between 34-44mm. If you're a chap with slighter wrists, a 34-40mm case will work best, while rugged gents with wrists like oak trees should opt for models up to 46mm.
A Quick Word On Straps
The thing that binds your timepiece to your wrists is hugely important in the character of your watch. A metal bracelet looks great on more masculine featured watches, while leather is the choice for conventional, dressy timepieces. You also have watches with NATO straps.
After taking in the above, you should have a better idea of what makes a great watch. Given all this information, we hope you can make a better informed decision when making your next watch purchase.